About St Barth Commuter
St Barth Commuter was founded in late 1994 by Bruno Magras and Michel Martinon on the idea that, being a premium destination in the Caribbean, St Barts deserved to have its own air service company.
Since the beginning of the operations in 1995, St Barth Commuter transported more than 500,000 passengers.
The company operated up to 5 aircraft, including Britten-Norman islanders (retired in 2014) and Cessna 208B Grand-Caravans.
In addition of the scheduled flight and charter flight services, St Barth Commuter provides medical transport services with the Cessna Caravans.
As the French Civil Aviation authorized us to take off by night, our aircrafts are available 24/7 to operate medical flights to St. Martin, Guadeloupe or Martinique.
St Barth Commuter operates an average of 200 medical flights per year.
Certification
European Air Operator Certificate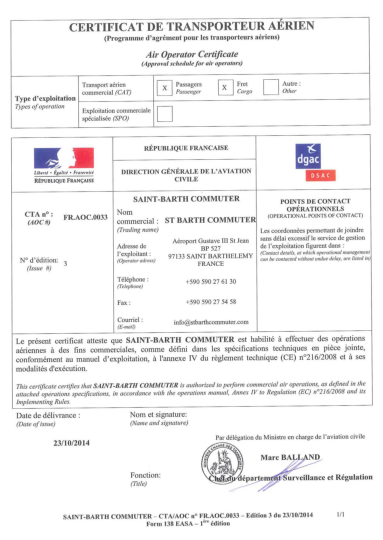 St Barth Commuter obtained its first Air Operator Certificate (AOC) in April 1995 under the reference : F-AG019.
To obtain the AOC, St Barth Commuter had to reply to the main following requirements:
A sufficient and qualified personnel with experience.
Airworthy and suitable aircraft for our type of operations
Acceptable crew training system
Safety Management System
Every three years, as our airline complied with all the requirements for the safety of its employees and passengers, the French Civil Aviation authorities extended the validity of the St Barth Commuter's Air Operator Certificate.
In 2014, our French AOC became an European Air Operator Certificate under a new reference : FR.AOC.0033
EASA / FAA certified Maintenance repair station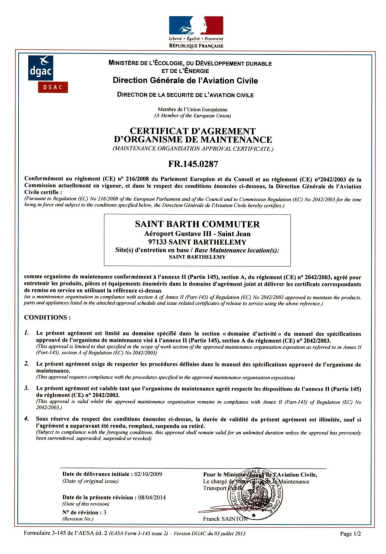 In order to reach the highest level of safety and reliability, St Barth Commuter decided to have full control of the maintenance of its aircraft. Therefore, even before obtaining its Air Operator Certificate, the company opened its own Maintenance and Repair Organization in 1994.
As of today our maintenance department has grown to gather a team of 8 highly skilled and trained technicians dedicated to provide high quality work and therefore ensure you a safe travel experience.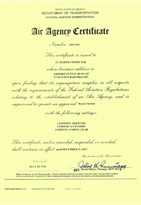 Our Maintenance and Repair Organization is an EASA / FAA Part 145 certified.
All of our maintenance procedures and operations are realized under the stringent European rules and are regularly supervised by the French authorities (OSAC). Our organization also undergoes an annual audit program conducted by our own Quality Management department.
EASA certified Continued Airworthiness Management Organization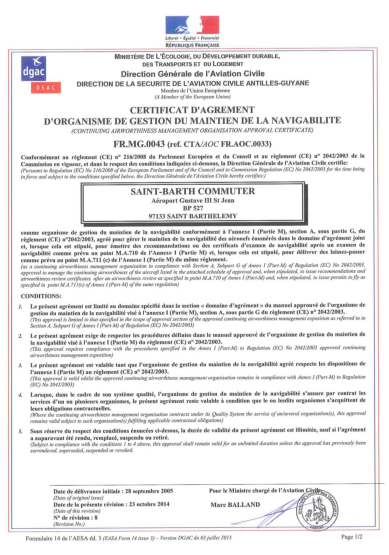 Our Continued Airworthiness Management Organization is responsible of the technical follow-up of our aircrafts and the maintenance control.
It is in charge of establishing the maintenance program of each aircraft, based on the manufacturer technical publications and recommendations, and makes sure all the maintenance operations are realized when they are due. It is also responsible for the compliance of Service Bulletins, and Airworthiness Directives issued by manufacturers and authorities to ensure the highest level of safety.
St Barth Commuter's CAMO has also demonstrated its capability of performing Airworthiness Review and is authorized since March 2010, to perform Airworthiness review on the type of aircraft listed in its approval schedule.
Fleet
St Barth Commuter operates 5 CESSNA C208B - "Grand Caravan", manufactured in 2009, 2010, 2012 and 2017.
The Cessna Caravan is a well-proven single-engine turboprop powered by a legendary reliable 675 Horsepower Pratt & Whitney engine. Since the first entry into service in 1986, the caravan has accumulated over 11 million hours of flight time and acquired a worldwide reputation of being an exceptional performer on short strip and un-prepared runway even in marginal weather conditions.
Cruise speed : 170 Kt
Seating configuration : up to 9 passengers
Engine : Pratt & Whitney PT6-114A
Avionics : Glass cockpit Garmin G1000
In our commitment to safety, the extensive care that we provide to our engine has been rewarded. St Barth Commuter has been selected by the engine manufacturer Pratt & Whitney to be part of its Fleet Enhancement Program (FEP). This program enables the exchange of a core engine for a new one of the same model at mid-life. Therefore our aircrafts are continuously flying with brand new engines to achieve above standard reliability, maximum fuel efficiency and minimal environmental emissions.
Interactive 3D view of the Cessna 208 aircraft
Team
St Barth Commuter staff is composed by 24 fully trained employees, managed by:
Bertrand Magras - General Manager
After joining the company in 2004 and holding the positions of Airworthiness Manager and Head of Flight Crew Training, Bertrand became the General Manager in January 2017.
Bertrand graduated from Embry-Riddle Aeronautical University with a B.S in Aviation Business. He also holds both FAA and EASA pilot certificates and act as an instructor and examiner.
Stéphanie Magras - Chief Operating Officer
Stéphanie is responsible for the direct supervision of the overall operations. She also makes sure that the flight planning is well optimized. She holds a Master's degree in Aviation Management from the French Civil Aviation School.
Ulrich Gréaux - V.P Flights Ops
Ulrich learned to fly in St Barth and therefore has an extensive knowledge of the unique particularities of this challenging airport. After earning all its flying certificates in one of the best European Flight Training Organization, he joined our team in 2005. He is a Class Rating Instructor and Examinator (CRI/CRE) and therefore one of the company check airmen.
Gerald Blanchard - V.P Ground Ops
After working in Travel agency, Gerald has joined our company in 2003 as ground operation agent. Since 2010 he is managing our main Station at Princess Juliana Int. Airport PJIAE were the majority of our flights are operated. He is also the Ground Operations Manager.
Philippe Delamotte - Director of Maintenance
Philippe has over 15 years of experience in the industry. He is responsible for the oversight and management of the company's maintenance organization. Prior joining St Barth Commuter in 2003, Philippe served in various regional and national aviation organization including TAT, Air Liberté, Transvalair.
---
Bruno Magras - Founder
Successful and self-made-man Businessman with more than 1500 H of flight time as a private pilot, Bruno is the founder of the company. He was distinguished with the Medal of Aeronautics in 2002 as a reward of his dedication to aeronautics.
Bruno left the company in 2017.
Careers
If you are interested in joining the exciting and ever-evolving aviation industry while enjoying a high quality of life, then you should consider a career with St Barth Commuter. Since 1995 we rely on our employees to deliver transportation solutions to a diverse set of customers in a fun and family oriented atmosphere. In order to meet customer expectation we hire people that are goal-oriented with a dedication to excellent customer service
Open positions
Mechanical Engineer EASA B1.1 / B2
How to apply for a job ?
If you share our core values and wish to join our team, please send a cover letter and a resume at the following address : careers@stbarthcommuter.com
Media / Pressroom
Private Fly Jet Charter - November 2017
Aviation & Pilote - March 2009
"The St Barth Commuter flight figure during high season is impressing : up to 80 flights a day and 40.000 passengers carried last year. If this facts seem not explicit, keep in mind that aircrafts offer only 9 seats !"
Michel Malecot - Aviation & Pilote - 2007
"I could certify that Bruno Magras manage his airline enthusiastically, and he has the courage to resist against some competitors who perform the same work, but with lower requirements about regulatory framework, administrative and social conditions."
Air & Cosmos - July 2003
"St Barth Commuter growth is mainly due to charter flights. Since September 2001, charter flights have been developped for american customers."
Additional information
Britten-Norman parts for sale
Due to the aircraft type retirement, St Barth commuter has some Britten-Norman BN2 parts for sale.
Please contact Corinne at (+590) 590 27 55 20 or sbc.oe@orange.fr.