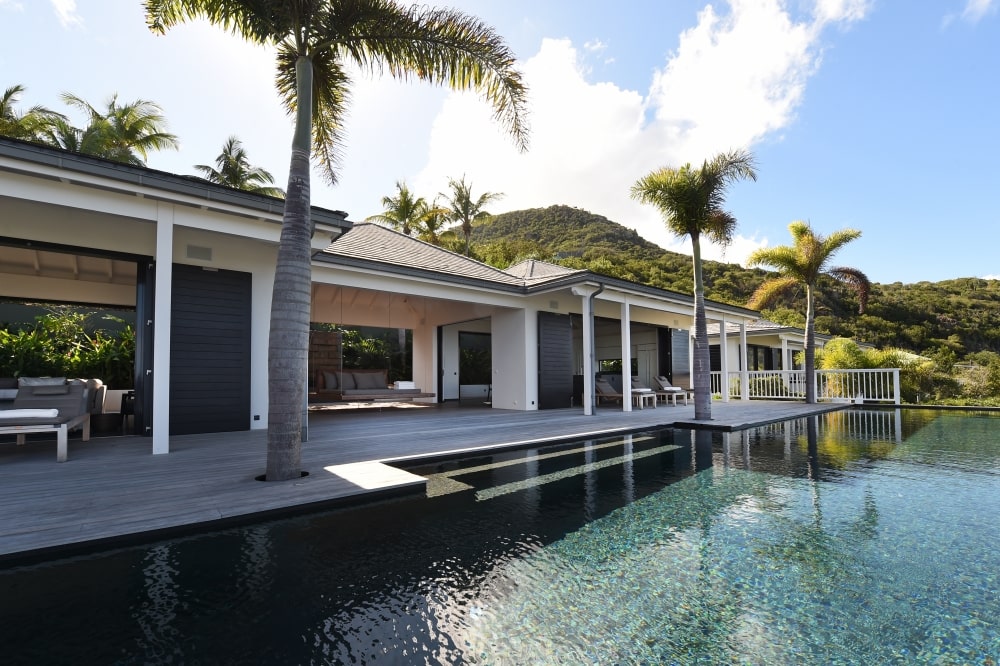 Villa Belle Etoile
Devet
There's a beautiful new star on the island of St. Barth, and its name is Villa Belle Etoile (BEL). Recently completed, the luxury rental property is distinguished by its modern and stylish aesthetic. The look is handsome and attractive enough to be easily admired without being at all cold or off-putting. This is a vacation house where you can your friends can kick off your shoes and let down your sandy hair.
One of the best features of Villa Belle Etoile (BEL) is its spectacular view. The heated, 28-meter infinity pool—one of the longest on the island—is a superb place to enjoy it, but it's on full display from the bedrooms and living area as well. But while all the rooms have that sea view, the windows on the other side open to something lovely as well: a long stretch of tropical vegetation that creates a very relaxing backdrop.
The gracious, adaptable layout of Villa Belle Etoile makes it very easy to share. The rooms are separated enough from one another to grant each guest a feeling of privacy, but the common gathering spaces are large and convivial enough to accommodate a large group reminiscing over old memories—or making new ones. Sibarth's concierge can arrange for special activities to help with that, from a group yoga class on the terrace to a wine tasting led by a top sommelier.
More information about villa Belle Etoile on SiBarth website