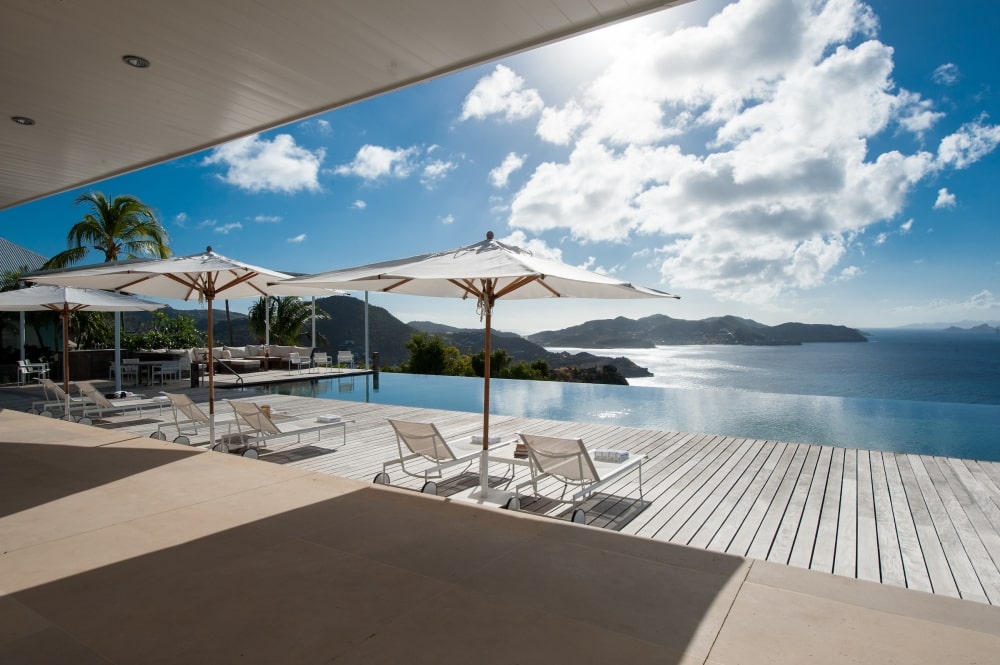 Villa Villa House
Gouverneur
The stone path at the entryway to Villa Hill House (BOW) leads to a choice: On your right, a jaw-dropping view of the Atlantic, the islands of Tintamarre and Anguilla visible in the distance. On your left, a home so inviting and elegant that it rivals the natural beauty of the Caribbean itself. Where do you gaze first? Villa Hill House (BOW) is one of the island's masterpieces of design. A shimmering, 28-meter infinity pool bordered by a wide ipe deck calls to mind relaxing afternoons in the sun or a sunset apero with friends. As you walk through the open living area, you realize that you could make this house your St. Barth hideaway, but it would be a shame not to entertain. Spacious and gracious, with comfortable seating for twenty or more, this home demands to be shown off. Not a single standard has suffered compromise--from the exquisite art to the latest 3D HD television, no detail has been overlooked. The professional kitchen can be closed off from the living and dining area for a catered dinner, or you may leave it open for a more casual feel when trying your hand at the Viking range yourself. The guest book is testimony to many a successful soiree at Villa Hill House (BOW). Now it's your turn.
Walk a few steps across the deck, and you discover a master bedroom suite that is practically a home unto itself. With a king-size, blond-wood four-poster bed, this bedroom is grand in dimensions and yet inviting in nature, with book-lined shelves and a terrace providing a spectacular ocean view over the tops of a forest of pale green Bismarkia Nobilis trees. Adjoining the bedroom is an expansive bathroom offering a luxury rare even among the top villas of St. Barth: a deep Philippe Starck bathtub silhouetted against a vision of the blue ocean and sky seen through Heritage lace bee-motif curtains. A large dressing room completes the suite, with plentiful shelf space and thoughtful details like mannequin heads for your hats.
Cross the deck and follow the path through Villa BOW's landscaped garden of frangipani, poet's jasmine and orchids. There you find three additional bedrooms, each with an en-suite bath. Designed with seclusion in mind, each one is an individual retreat complete with a refrigerator, television, and private terrace leading out to a grassy lawn and swaying royal palms. Decorative details lend each room a homey and distinctive feel, from the carefully selected art that adorns the walls to small touches like a mother-of-pearl soap dish.
More information about villa Villa House on SiBarth website