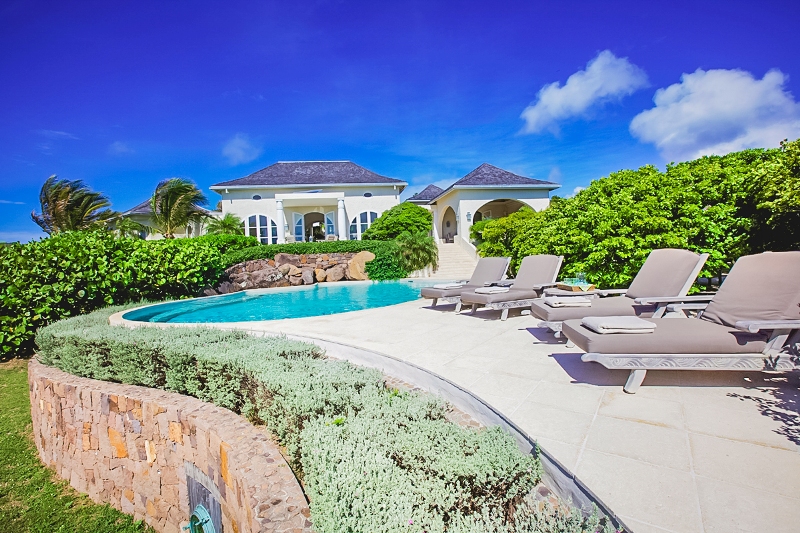 Villa Les amis du vent
Mont Jean
The simple, natural beauty of the entrance to Villa JAY masks the extraordinary luxury of the hidden retreat beyond. As you descend the steps through a terraced garden of palms and flowering orange ixora, you soon realize that this is a villa like no other.
Before you, the three wide doors to the living room reveal a high-ceilinged and open space decorated in casual chic. Inviting sofas and a pleasing decor of seashells and orchids urge you to stay and rest. But you cannot stop there, for through the arched doorways that lead to the terrace, the greens and blues of the island's natural beauty lure you to step outside.
As you take in the view from the terrace, the clear water of the swimming pool competes for your attention with the turquoise of the sea beyond. Above, paille-en-queue birds chase one another across the sky. Below, sea turtles coming up for air make ripples in the placid waters of Marigot Bay. A sandy path beside the pool beckons you to grab one of the weathered walking sticks under the archway and explore the acres of land between the villa and the ocean. Located near the end of the peninsula that is home to the exclusive, gated neighborhood of Mont Jean, Villa Les Amis du Vent offers unparalleled privacy.
More information about villa Les amis du vent on SiBarth website