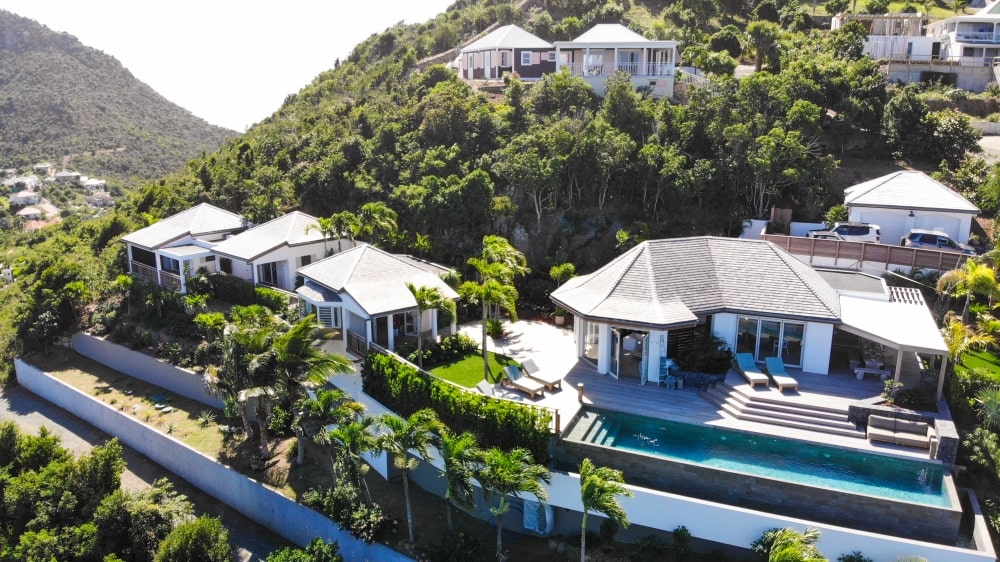 Villa Mamiami
Vitet
A St. Barth vacation can present a conundrum. Do you want to stay in the heart of the action, even though it means missing out on the relaxation of seclusion? Or do you want to hole up somewhere remote, knowing full well that FOMO might kick in once you realize that things are just so far away?
At the newly renovated Villa Mamiami (MIM), you do not have to decide. The luxury rental home is hidden away in the greenery of Vitet with an unobstructed view of the ocean, Turtle Island, Anguilla, and St. Martin. It is an idyll of spaciousness and tranquility, the perfect retreat for a calm and rejuvenating holiday away from the bustling island atmosphere—or one with shopping and beach time mixed in, as both are right nearby.
Villa Mamiami takes a modern, sophisticated approach to Caribbean life. The tropical forest outside encourages a barefoot luxury vibe, but the interiors are chic and harmonious in a soft pastel color palette that blends in with the environment. All the furnishings were sourced from small manufacturers, with a close eye for detail. This marriage of elegance and comfort—plus abundant natural light and broad sea views in all the rooms—creates a relaxing atmosphere.
More information about villa Mamiami on SiBarth website