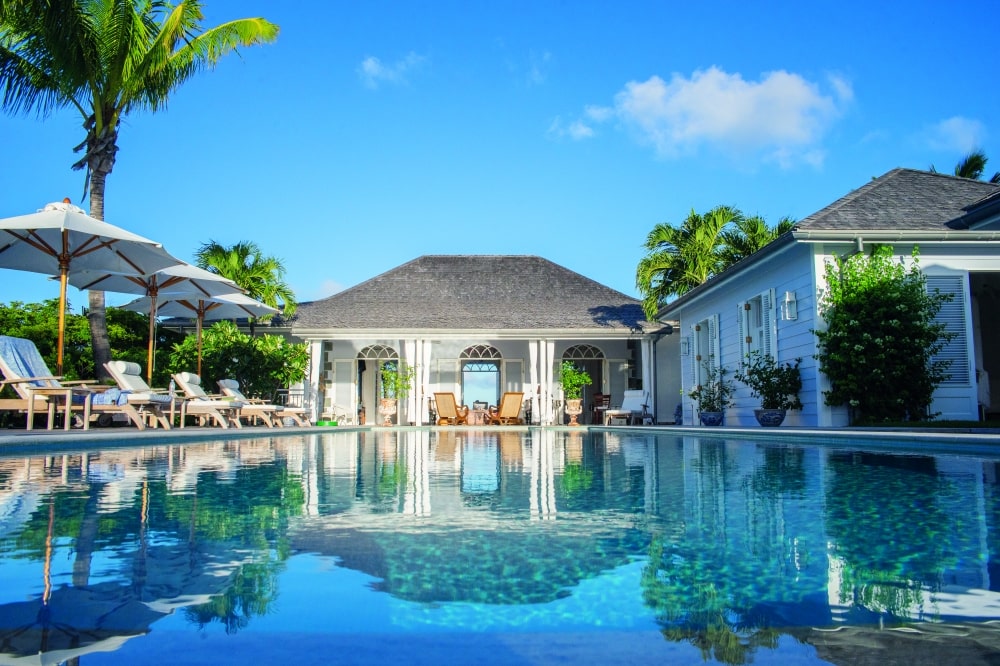 Villa Plumbago
Colombier
Traditional West Indies architecture and design sparkle in Villa Plumbago (PBO), a luxury rental property that is full of high-end furnishings, antiques, and art. All of it is very carefully kept, giving the house an air of timeless elegance. A centerpiece is the large pink chandelier in the majestic living room, but that is only one of many details that set the home apart.
Located at the far end of Colombier, Villa Plumbago has excellent privacy and striking views. Windows and glass doors all around allow people in any room to look out over the sea and the well-maintained garden. There is also a view in the back, over Flamands beach.
The social heart of the villa is the large living room and spacious, well-appointed kitchen with its bar and barstools. There is a small office or TV room in the back. Outside, the terrace continues the feeling of grand, easy living. The heated infinity pool is more than 60 feet long and surrounded by ample seating and lounge chairs. There are also seating areas in the gardens around the property.
More information about villa Plumbago on SiBarth website