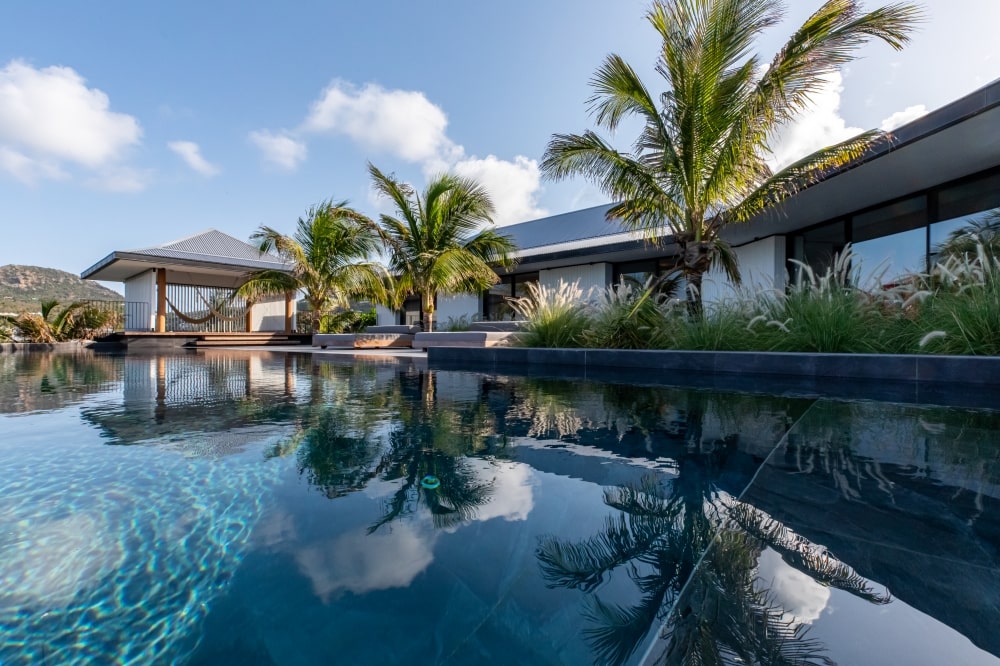 Villa Valentina
Pointe Milou
Minimalist luxury and integration are the hallmarks of the entirely rebuilt Villa Valentina (VIP, and not without good reason). Throughout the luxury rental property in Pointe Milou, you can find exceptionally fine craftsmanship and top-quality furnishings and appliances. Villa Valentina has an understated way of making each day of a St. Barth vacation more pleasurable than the one before.
The four-bedroom holiday house has sweeping views of the Atlantic to the east and is bathed in sunlight all day. That warm glow is a striking counterpoint to the modern and high-end design and fittings. Outside the entrance, there is a juxtaposition of large and smooth concrete steps and appealingly lush landscaping and greenery.
The owner of Villa Valentina (VIP) paid great attention to every detail of the significant early-2020 renovation, from the custom wood furniture, white vertical paneling, a circular dining table that seats 16 people and has a rotating center, Tom Dixon lamps glowing in pairs in the bathrooms. There are blackened-steel finishes throughout the house custom-built closets, and an 80-foot-long gray granite swimming pool made for sunbathing, laps, and play.
More information about villa Valentina on SiBarth website